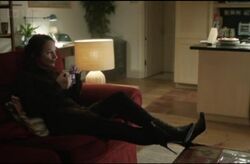 Morgan Lamb is a recurring character in Whitechapel who appears in two episodes of the series. She is a psychiatrist who features in the final story of Series 3 Episode 5 + Episode 6.
She is Edward 'Ed' Buchan's psychiatrist who he meets regularly for talk therapy session where they talk about his problems and where she gives him advice to help. Lamb gives Chandler an elastic band to put around his wrist and to snap it against his skin when he gets stressed, something he continues to do into season 4.
She later becomes involved in the case of the week, a serial killer, when he attacks her when she is walking to her car after work. She manages to survive the attack, a strangling, by stopping struggling and pretending to be dead. She calls up the police and meets the team, becoming an important witness in the case and helping solve it. Joe Chandler and lamb are mutually attracted to each other through out both episodes but shortly after declaring their attraction for each other, Lamb is slain.
Community content is available under
CC-BY-SA
unless otherwise noted.